TICO Alliance In The News
DEC 2015 07 - SVG Europe, by David Fox
SVG Europe Analysis: Compressed UHD goes live with TICO Alliance
The extra bandwidth required by the move to Ultra HD will probably result in extra costs and complexity. One approach to mitigate this could be using compression. However, most compression systems require additional processing power and cause delay, making them unsuitable for live production. TICO, a lossless compression scheme created by intoPIX in 2013, may be the answer, and a wide variety of manufacturers have now joined the new TICO Alliance to support the codec's use over SDI and IP-based infrastructures.
AUG 2015 27 - TV Technology, Broadcast Engineering Extra, by Bob Kovacs
Implementing 4K in a 3G-SDI Plant: A Conversation With Jean-Baptiste Lorent
Can you use four times the data in your existing facility?
Why this matters : Your 3G-SDI still smells too new to consider replacing it. This is a way to use 4K signals in your existing infrastructure.
ALEXANDRIA, VA.—Despite the fact that HD broadcasting is relatively recent, and most people in the U.S. bought their first HDTV only in the past seven years, there is growing pressure to shoot, produce and distribute programming in 4K resolution. There are already a couple episodic TV shows available for viewers in 4K, and more are on the way. Of course, big sporting events will also be shot in 4K, but there are a number of reasons why broadcasters can't yet deliver 4K to viewers.
One reason has to do with the broadcast infrastructure inside every TV station and network control facility.
AUG 2015 11 - The Broadcast Bridge, by Frank Beacham
The Broadcast Bridge: 4K Status: Production Yes—Delivery No
For all of last year's talk about distributing 4K television to home viewers, there has been little real progress on making it a reality. The only place 4K technology is being used regularly is in some sports production and in the making of premium television programming.


Appear TV Joins TICO Alliance, Increasing the Alliance Membership Total to 42.
IBC 2017 – AMSTERDAM — September 15, 2017 — The TICO Alliance today announced that Appear TV - world class designer of equipment for delivery of professional video services - has joined the TICO Alliance to support interoperability for Broadcast IP migration.
At IBC 2017, TICO Alliance solutions meet the increasing demand for higher resolutions such as 4K and 8K and play a vital role in accelerating the SDI to IP industry migration.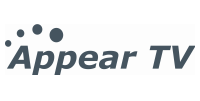 NAB 2017 - TICO Alliance Welcomes New Members and
Showcases More TICO Interoperable Products for
SDI or IP in HD, 4K and 8K at NAB 2017

Las Vegas Convention Center, 24th April 2017: Aperi, Axon, Cesnet, Icron and Pronology have recently
joined the alliance in the last few weeks. The growth of supporters and promoters of TICO continues in
2017; as new companies opt for the TICO Alliance and deliver TICO interoperable products and as more
broadcasters are adopting the tool in their workflows.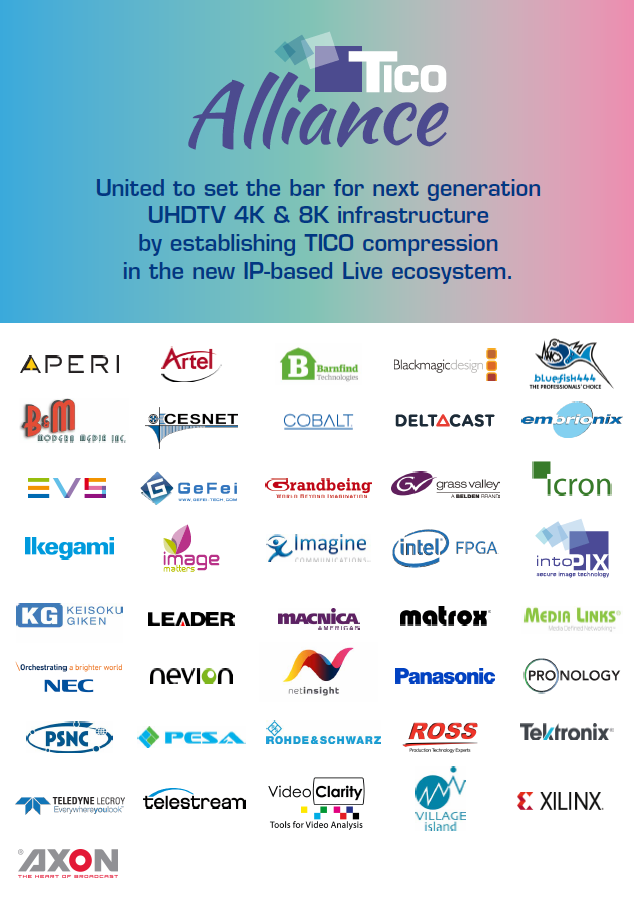 NAB 2016
:New technology companies join the rapidly-growing TICO Alliance at NAB 2016
The addition of the new members demonstrates the growing acceptance worldwide of TICO compression as suitable technology for lightly compressed IP transmission in Live Production.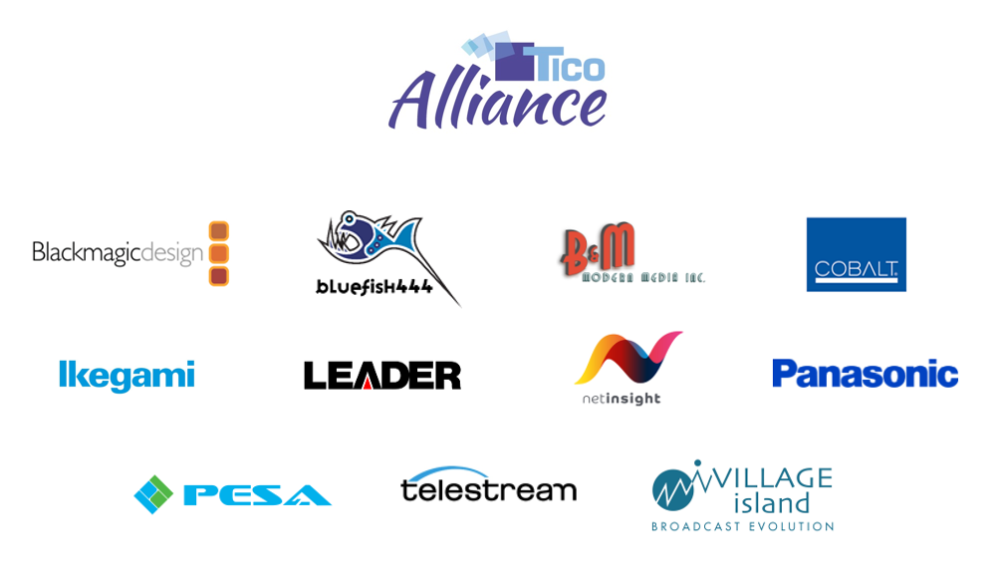 IBC 2015 : TICO Alliance Moves Forward with SMPTE for Transporting UHD-4K over IP and SDI, Adds New Members and Shows Live 4K Demos at IBC 2015.
The rapidly growing membership reflects the importance of TICO® to ease the move to 4K and IP within Broadcast Production facilities.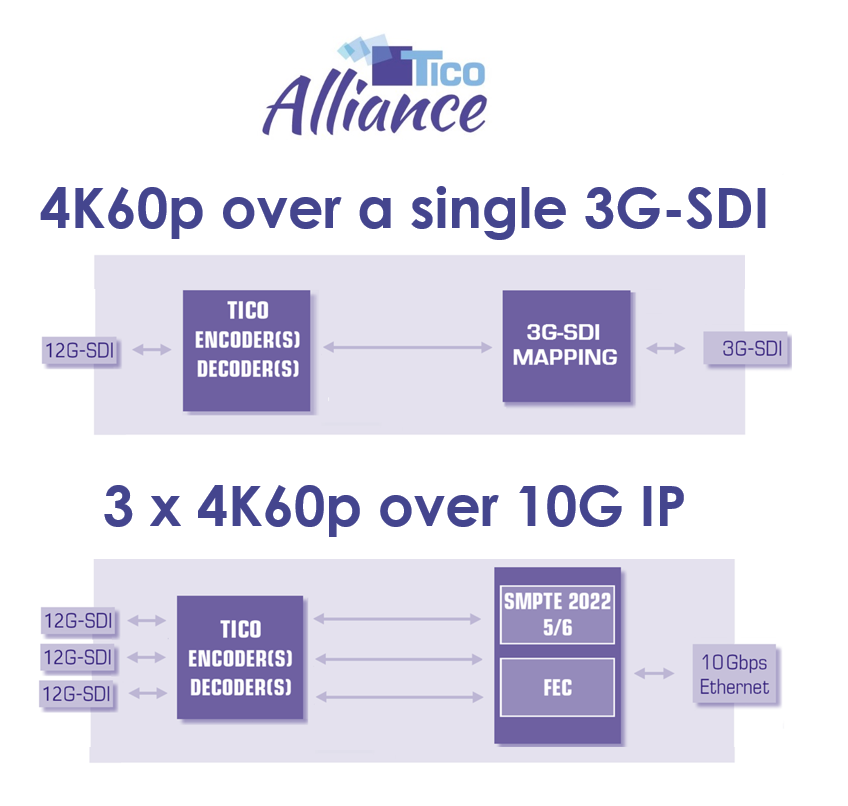 NAB 2015 : TICO Compression Supporters Announce the Launch of the TICO Alliance to Move to 4K/UHD in Live Broadcast Production.
The new TICO compression technology will ease the challenge of moving 4K/UHD over current SDI infrastructure and IP Networks